Upper Mustang Trek
Our Upper Mustang Trek
Upper Mustang trek is one of the great protected treks in Nepal. This old Buddhist region was once a part of Tibet before becoming the Kingdom of Lo. Today it is a part of Nepal's protected zones. The Upper Mustang trek was officially opened in 1992 and every year only a limited number of trekkers are allowed to enter the region. This is to protect and conserve the tradition and unique fragile environment. The trek is exceptionally different from many others featuring a completely different type of arid landscape.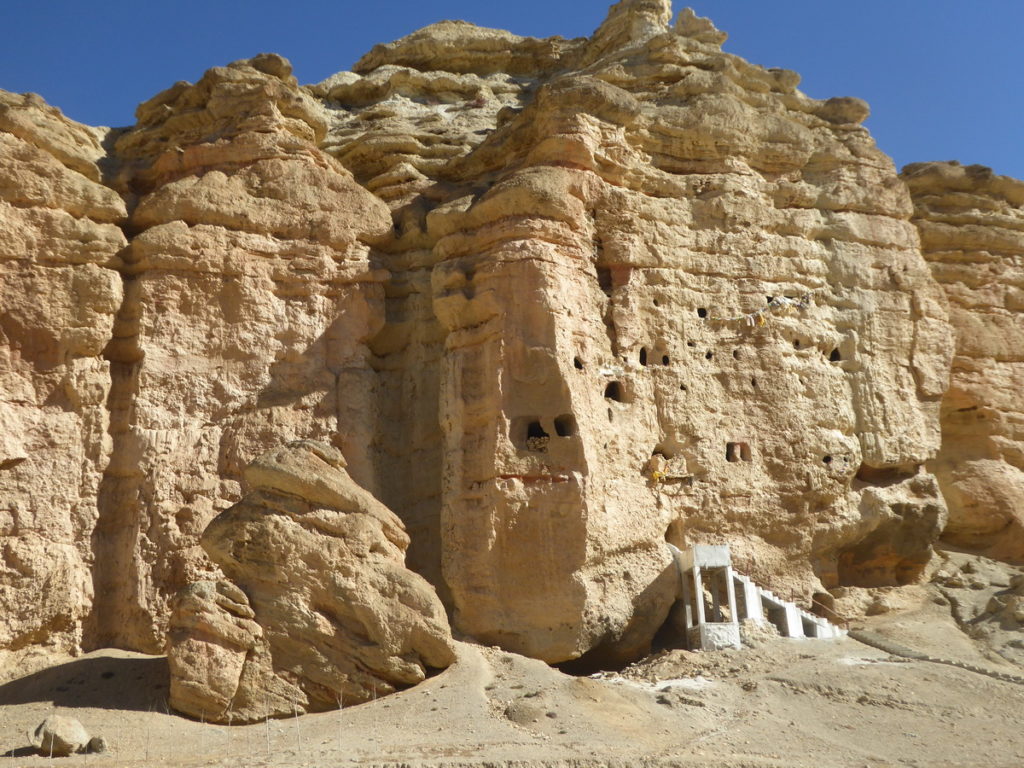 We can start this trek either in Pokhara or Lower Mustang by flying into or taking a bus to Jomson. From there you will see a dramatic change in the landscape as we trek into Upper Mustang's arid valleys and canyons. Once known as the "forbidden kingdom" one of the highlights are the different colored rock sediments in the tall mountain faces we'll try past. On top of this we'll also get to see the snow capped mountains of Annapurna, Dhaulagiri, Nilgiri and Tuche. We will also experience colorful Tibetan style stupas, mud houses and yaks alongside the friendly ethnic groups who live in the mountains here.
It's important to note that unlike many other treks, Upper Mustang can be completed during the monsoon season as it is sheltered by the huge Annapurna and Dhaulagiri ranges. This is also when the valleys of Upper Mustang bloom with flowers and fauna. You can do this trek during normal trekking seasons. We normally take trekkers on a 10 day trek to Upper Mustang however we can also extend this if you wish and include some remote monastic areas.
Our Itinerary for Upper Mustang
Day 1: Fly or take a bus to Jomsom (2,700m/8898ft) and trek to Kagbeni (2,810m/9,216ft): 3-4 hours trek
Day 2: Kagbeni to Chele (3,050m/10,004ft): 5-6 hours
Day 3: Chele to Syanbochen (3,475m/11,398ft): 6-7 hours
Day 4: Syanbochen to Ghami (3,520m/11,546ft): 5-6 hours
Day 5: Ghami to Tsarang (3,620m/11,873ft): 5-6 hours
Day 6: Tsarang to Lo-Manthang (3,730m/12,234ft): 3-4 hours
Day 7: Explore Lo Manthang/ Acclimatization
Day 8: Lo-Mangthang to Drakmar (3810 m/12,500ft): 6-7 hours
Day 9: Drakmar to Ghiling (3,806m/12,484ft): 5-6 hours
Day 10: Ghiling to Chhuksang (3050m/10,004ft): 5-6 hours
Day 11: Chhuksang to Jomsom (2,700/8,856ft): 6-7 hours
Day 12: Fly or take a bus back to Pokhara
---
Custom treks made for you for FREE!
---
Looking for a mix of the above? City tours? Jungle trips to Chitwan? White water rafting or Paragliding?
No problem! Write to us: Let us know how many days you have in Nepal, what you'd like to see, and we'll write up an itinerary for you free of charge!
Please include the following!
Number of people
Time of year
What you'd like to see or do
How many days do you have
Contact us now for your free itinerary!