The Annapurna Circuit Trek
This is our Annapurna Circuit Trek
The Annapurna Circuit is one of the world's most famous and best treks. It reached a legendary status in Nepal during the 1970s as the ultimate trek and has remained so for the past few decades. It takes an average of 18 days to complete this trek in full but it can easily be extended or shortened as per your requirements.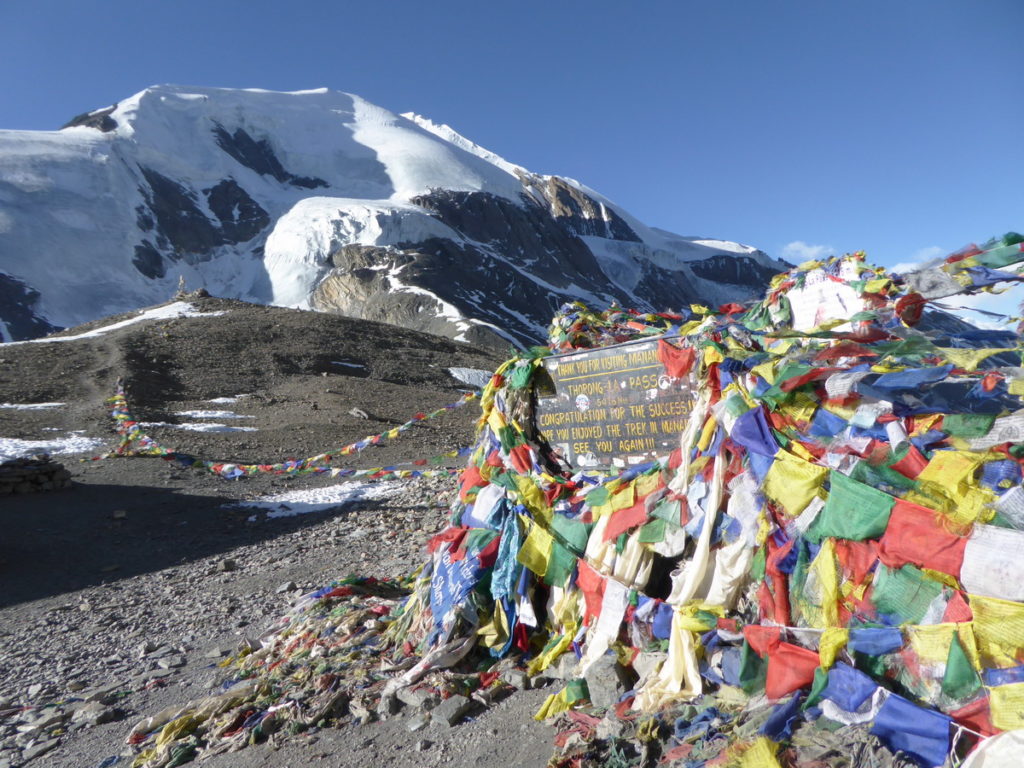 The Annapurna Circuit route itself has a wonderful diverse route starting with low farmlands before entering pristine forests. As we trek above 4,000m the tree line disperses and rough arid mountainous landscapes take their place. We will be crossing over Thorong La Pass at 5,416m before descending into the Buddhist area of Lower Mustang where we will visit old monasteries and sacred shrines.
We will take you through wide valleys, hot springs and rural communities to conclude in the resort town of Pokhara. Of all our treks this is the one we can offer the most customization. The only thing we insist on is ensuring that you have the proper amount of acclimatization days for your safety. The trek itself can be shortened via a plane back to Pokhara from Jomsom or extended via Upper Mustang, Annapurna Base Camp or the New Annapurna Trail Routes.
The choice is yours depending on the amount of days you have. Here is an outline of the standard Annapurna Circuit trek we offer you.
---
Our Itinerary for Annapurna Circuit Trek
Day 1: Arrival in Kathmandu (1,300m/4,264ft)
Day 2: Drive to Nagdi (800m/2,624ft): 7- 8 hours
Day 3: Nagdi to Jagat (1,300m/4265ft): 6 – 7 hours
Day 4: Jagat to Dharapani (1,960m/6,430ft): 7-8 hours
Day 5: Dharapani to Chame (2,710m/8,891ft): 5 – 6 hours
Day 6: Chame to Pisang (3,300m/10824ft): 5 – 6 hours
Day 7: Pisang to Manang : 6 – 7 hours
Day 8: Manang: Acclimatization day
Day 9: Manang to Shree kharka 4 – 5 hours
Day 10: Shree Kharka to Tilicho base (4,110m/13,484ft):: 3 – 4 hours
Day 11: Hike to tilicho lake then return back to shree kharka. 7 to 8 hr
Day 12: Shree Kharka to Lader 4 to 5 hr
Day 13: Lader to Throng Phedi 4 to 5hr.
Day 14: Thorong Phedi to Muktinath (3,800m/12,467ft) via Thorong La pass (5416m/17,764ft): 7 – 8 hours
Day 15: Muktinath to Jomsom (2,670m/8,760ft): 4 – 5 hours
Day 16: Fly out Jomsom to Pokhara or spend an additional 2 days trekking to Tadapani hot springs and then catch a bus to Pokhara.
---
Looking for a mix of the above? City tours? Jungle trips to Chitwan? White water rafting or Paragliding?
No problem! Write to us: Let us know how many days you have in Nepal, what you'd like to see, and we'll write up an itinerary for you free of charge!
Please include the following!
Number of people
Time of year
What you'd like to see or do
How many days do you have
Contact us now for your free itinerary!