Annapurna Base Camp Trek
This is our Annapurna Base Camp Trek
Also known as the Annapurna Sanctuary Trek this is one of the most popular treks in the Annapurna region. With the benefit of many trekkers taking part in this trek the accommodation and meal options are very good along the trail.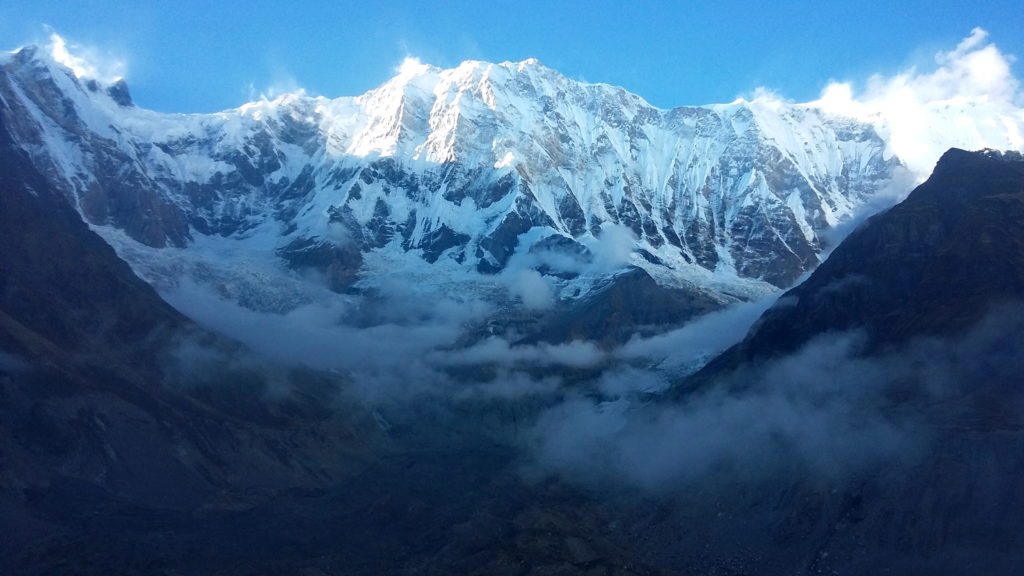 Annapurna Base Camp is mainly popular because it has several rewarding aspects to it. The end goal is the massive amphitheater like Annapurna Base Camp with ragged tall ice mountains rising up in front of you. It's a sight and experience to behold. Along the way trekkers encounter ethnic mountain villages and can see traditional lifestyles of mountain people from farming to building stone houses by hand.
Throughout this trek there is a fantastic amount of diverse scenery to enjoy. From Rhododendron forests to giant bamboo groves. Mixed with highland mountains, rice terraces, low farmland the dramatic views of the Annapurna mountain range stage an impressive backdrop to your trek.
---
Our Annapurna Base Camp Trek Itinerary
Day 1: Arrival in Kathmandu (1,300m/4,264ft)
Day 2: Fly to Pokhara (827m/2,700ft),
Day 3: Trek to Ghandruk (1940m/6360 ft): 30 minutes flight, 5 – 6 hours trek
Day 4: Ghandruk to Chhomrong (2170m/7120ft): 5 – 6 hours
Day 5: Chhomrong to Bamboo (2310m/7578ft): 4 – 5 hours
Day 6: Bamboo to Deurali (3230m/10,595ft): 3 – 4 hours
Day 7: Deurali to Annapurna Base Camp (4,130m/13,545ft) via Machhapuchhre Base Camp (3700m/12135ft): 5- 6 hours
Day 8: Annapurna Base Camp to Bamboo: 7 – 8 hours
Day 9: Bamboo to Jhinu Danda (1760m/5770 ft): 5 – 6 hours
Day 10: Trek to Naya Pul then drive to Pokhara: 6 hours trek, 1 hour drive
Day 11: Fly to Kathmandu
---
Looking for a mix of the above? City tours? Jungle trips to Chitwan? White water rafting or Paragliding?
No problem! Write to us: Let us know how many days you have in Nepal, what you'd like to see, and we'll write up an itinerary for you free of charge!
Please include the following!
Number of people
Time of year
What you'd like to see or do
How many days do you have
Contact us now for your free itinerary!